Canadian Association for Suicide Prevention Case for Support
PRINT DESIGN
In 2014, the Canadian Association for Suicide Prevention (CASP) was poised to make its case for support for the necessary and integral work they produce. The result is a compelling narrative of past, present and future implications of the organization's achievements and an impassioned appeal for a strengthened and collaborative strategy for suicide prevention across the country.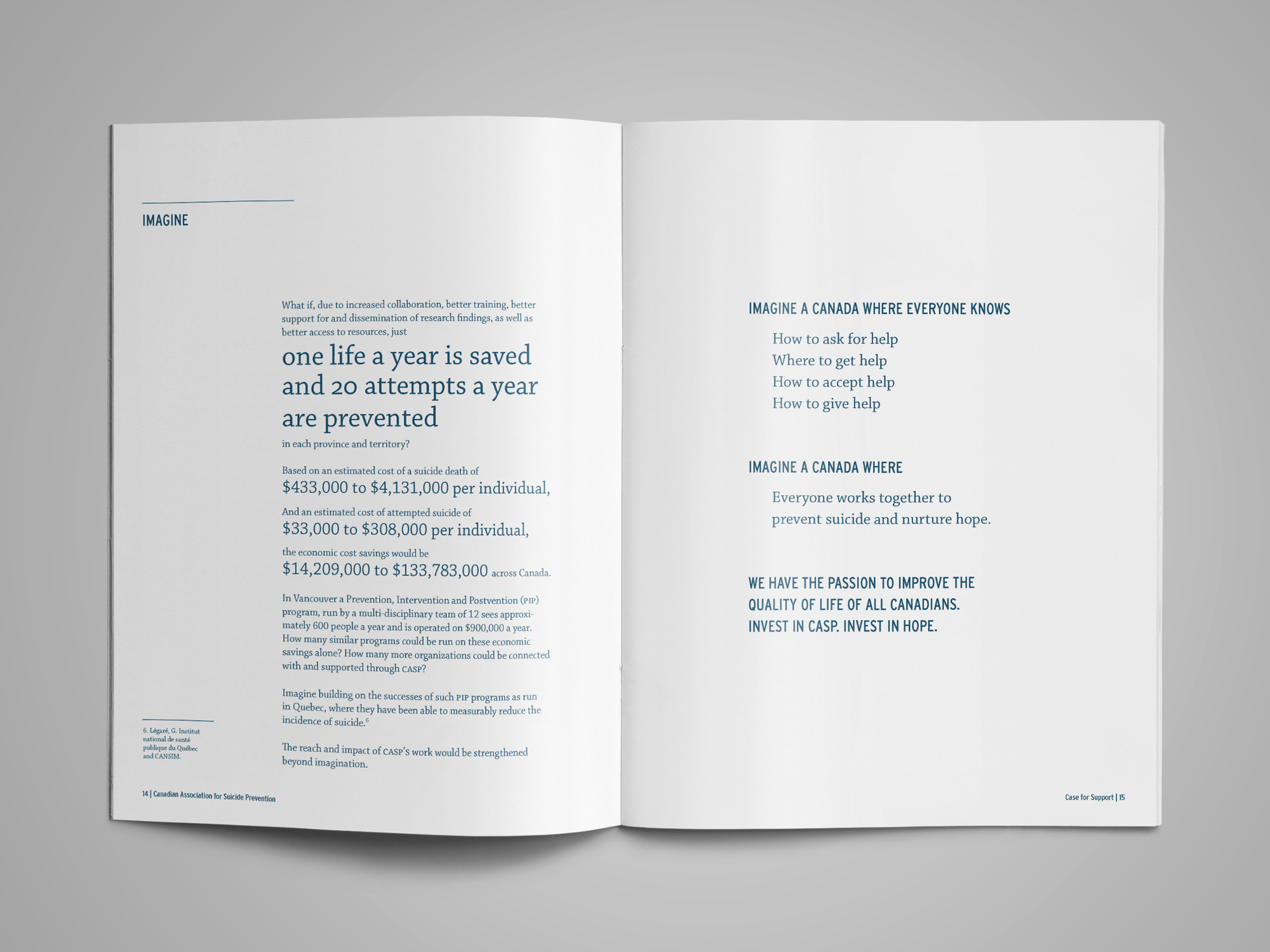 As a nationally recognized organization committed to uniting all communities, governments, organizations, stakeholders and resources across Canada to work effectively together to prevent death by suicide, the Canadian Association for Suicide Prevention (CASP) sought to advance its aim to become Canada's national suicide prevention coordinating body while prioritizing the creation of a national suicide prevention strategy. The challenge was to communicate the breadth and depth of work produced by CASP and its impact on the communities it supports, while clarifying its value to various stakeholders with the intention of securing sustainable ongoing funding.
As part of the process of creation of content strategy, interviews with various stakeholders and subject matter experts were conducted which provided for a deeper understanding of the work done by CASP, its context within the greater mental health field in Canada and internationally, as well as its overall impact so far. Through additional consultations with executive board members, a strategy was built which focused on three areas: 1. who is CASP? 2. the work CASP has done to date, and 3. CASP's aims for the future. Special care was put towards setting the stage and engaging the audience in understanding the immensity of the challenge CASP has taken on.
The resulting 16-page booklet provides a glimpse into the work of suicide prevention, intervention and postvention produced by CASP, its history and experience, current operation and impact, as well as position within the field and fit for becoming a national coordinating body for suicide prevention in Canada. It includes information graphics which present statistics about suicide death and its impact in economic terms as well as information about the benefits that sustainable and ongoing funding might enable.